Although the Canadian Football League does not create the same amount of collective enthusiasm in North America as the NFL, it does have a long and illustrious history. And it included some of the best individual performances in professional football history.
Here is our list of the top 25 players that have played in the CFL. The names are listed in alphabetical order.
Damon Allen, Quarterback (1985-2007)
Regardless of the league, he is one of the most adaptable quarterbacks in the history of professional football. Allen, who won four Grey Cups with three separate teams (Edmonton, British Columbia, and Toronto), has the most total passing and running yards of any professional football player in Canada. Allen was voted Grey Cup MVP three times and received the CFL Most Outstanding Player Award in 2005, at the age of 42.
John Barrow, Offensive/Defensive Lineman (1957-1970)
Barrow, a two-way star, spent his entire 14-year CFL career with the Hamilton Tiger-Cats. Barrow was a first-team All-American at Florida and was selected by the Detroit Lions, although his professional career was spent entirely in Canada. Barrow was a member of four Grey Cup-winning teams (1957, '63, '65, and '67) and was named a CFL All-Star six times. From 1971 until 1975, Barrow was the general manager of the Toronto Argonauts.
Less Browne, Defensive Back (1984–1994)
Browne's pro football career started in the United States Football League (USFL), but it was in the Canadian Football League (CFL) that he rose to prominence as one of the game's top players. Browne established a league record with 87 career interceptions and 1,508 regular-season interception return yards while playing for Hamilton, Winnipeg, Ottawa, and BC. During his time in the CFL, he also blocked eight kicks. Browne was named to the Canadian Football Hall of Fame in 2002 after being named to the All-Star team six times.
Anthony Calvillo, Quarterback (1994-2013)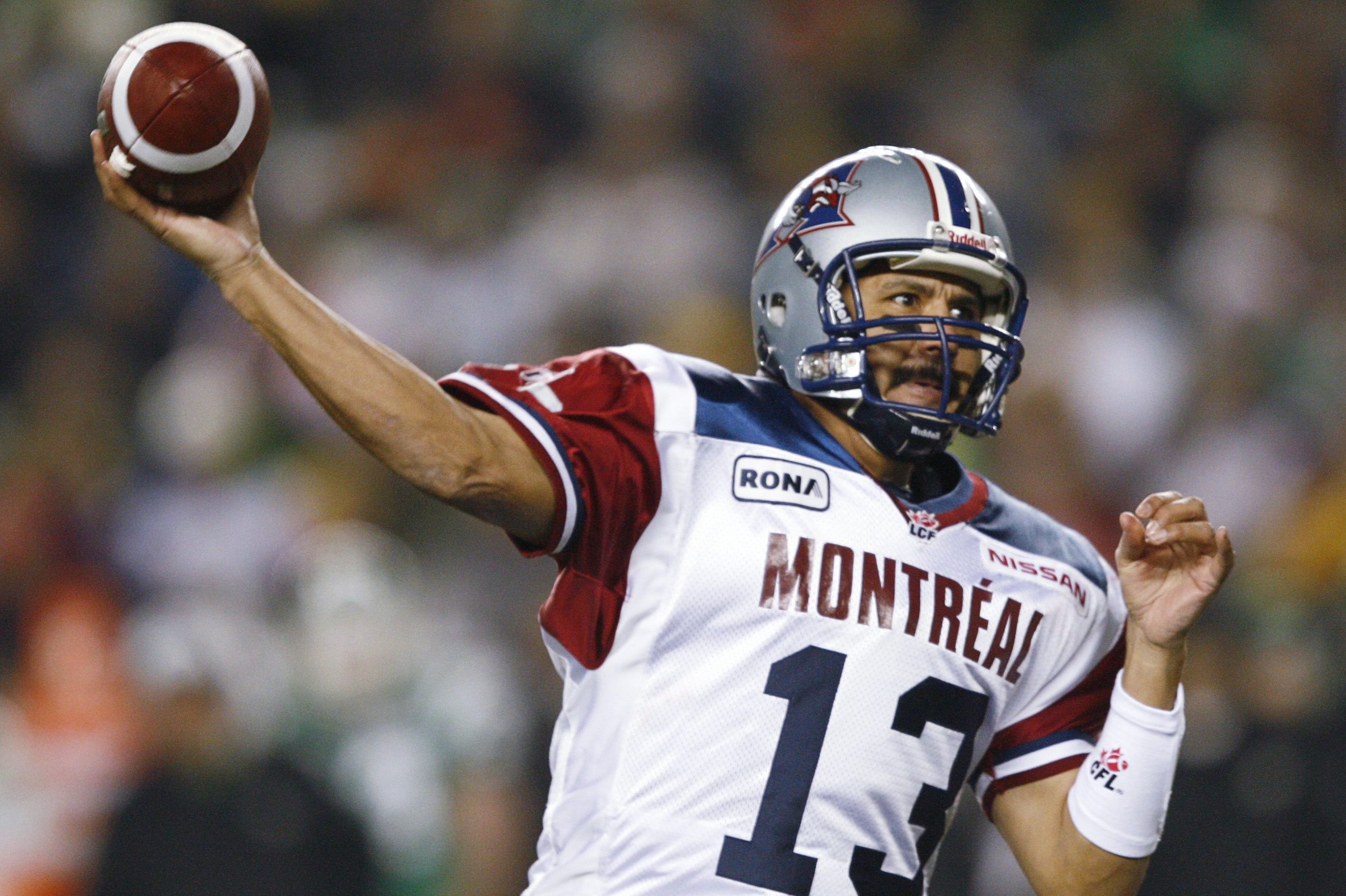 Calvillo is one of the top professional quarterbacks in the world, regardless of whatever league we're talking about. Calvillo's 79,816 professional yards are second only to Drew Brees and Tom Brady. Meanwhile, he ranks seventh among NFL quarterbacks with 455 touchdown passes. Calvillo's CFL career started in the mid-1990s with the expansion Las Vegas Posse during the "Border Wars" era. He eventually moved to Hamilton, although he owes almost all of his achievements to Montreal. Calvillo won three Grey Cups with the Alouettes (2002, 2009, 2010) and was named the league's Most Outstanding Player in 2003, 2008, and 2009.
Michael "Pinball" Clemons, Running Back/Returner (1989-2000)
Despite his short stature of 5-foot-6, Clemons is undeniably one of the most electrifying pro football players of all time. Clemons, who was arguably one of the most popular individuals in CFL history, with a career total of 682 catches for 7,015 yards and 5,341 rushing yards, with 85 total touchdowns, including his work as a returner. Clemons completed his entire CFL career with the Toronto Argonauts, where he also served as head coach (2000-2001; 2002-2007) and is now in the front office. Clemons has been a member of six Grey Cup-winning teams in total.
Sam Etcheverry, Quarterback (1952-1960)
Despite being from New Mexico, Etcheverry is one of Montreal's most well-known sportspeople because of his success with the CFL's Alouettes. From 1954 through 1956, he established a CFL record by throwing a touchdown pass in 34 straight games. Etcheverry was also the first pro quarterback to pass for more than 4,000 yards in a season, wearing the No. 92. (4,723 in 1956). In the 1955 Grey Cup versus Edmonton, he set a new record with 508 throwing yards.
Doug Flutie, Quarterback (1990-1997)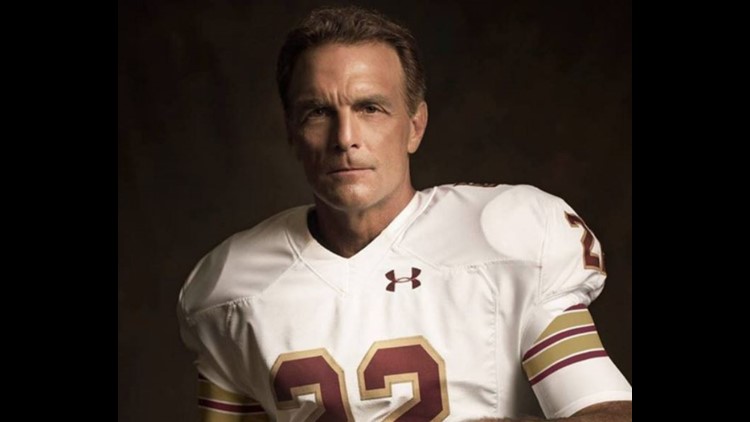 TSN selected the "Top 50 CFL Players of All Time" in 2006. To no one's surprise, Flutie topped the list. Flutie had the most success of his pro football career in Canada between stints in the NFL. Flutie won a Grey Cup with Calgary in 1992 and two with Toronto in 1996 and 2007. He is a six-time CFL Most Outstanding Player Award winner. He still retains the CFL records most throwing yards (6,619) and touchdowns in a single season (6,619). (48). Flutie passed for 41,355 yards and 270 passing touchdowns while in Canada, as well as 4,660 running yards and 66 rushing touchdowns.
Tony Gabriel, Wide Receiver (1971–1981)
Gabriel, who was born in Canada, played for the Hamilton Tiger-Cats and the Ottawa Rough Riders, where he was selected a CFL All-Star eight times and twice won the Grey Cup (1972, 1976). Gabriel, the league's Most Outstanding Canadian in 1974, 1976, 1977, and 1978, holds the all-time catches and receiving yards records for Ottawa (7,484). The 1976 Grey Cup was won by Ottawa thanks to Gabriel's late touchdown reception from Tom Clements.
Wayne Harris, Linebacker (1961-1972)
Harris was a ferocious defender for the Calgary Stampeders and was a member of the College Football Hall of Fame after excelling at Arkansas. Harris was not only one of the best tacklers in league history, but he also had over 25 career interceptions. Harris was a CFL All-Star on eight times and was a member of the Stampeders' Grey Cup-winning squad in 1971. Many CFL experts believe Harris to be the best player in the franchise's history.
John Helton, Defensive Lineman (1969-1982)
When it comes to outstanding Calgary defenders, Helton may be the finest defensive lineman in CFL history. He was a 10-time All-Star and the league's Most Outstanding Defensive Player in 1974, three years after he won the Grey Cup with the Stampeders with Wayne Harris. Helton's CFL career came to an end with the Winnipeg Blue Bombers. In 1986, he was elected to the Canadian Football Hall of Fame.
Garney Henley, Wide Receiver/Defensive Back (1960-1975)
Henley, a two-way player in the CFL, received the league's Most Outstanding Player Award in 1972, the same year he won the last of his four Grey Cups with the Hamilton Tiger-Cats (in seven appearances). Henley was drafted by the Green Bay Packers and promptly made his way north of the border, recording 59 interceptions and five defensive touchdowns in his career. He is a member of the College Football Hall of Fame as well as the Canadian Football Hall of Fame.
Russ Jackson, Quarterback (1958-1969)
Jackson is CFL royalty when it comes to Canadian football. Jackson was born in Hamilton, Ontario, but he became something of an adopted beloved son of Ottawa after helping the Rough Riders win the Grey Cup in 1960, 1968, and 1969. Jackson was a three-time CFL Most Outstanding Player (1963, 1966, 1969), with 24,593 throwing yards and 185 touchdowns, as well as 5,045 rushing yards and 54 touchdowns. Following his playing career, Jackson coached the Toronto Argonauts for two seasons (1975-76).
Danny Kepley, Linebacker (1975-1984)
Kepley is a legend in the Edmonton Eskimos' history. As a player and as an assistant coach, he won an incredible eight Grey Cups with Edmonton. Kepley earned the CFL Most Outstanding Defensive Player Award three times, combining with fellow linebackers Dale Potter and Tom Towns to create one of the most powerful defensive teams in league history.
Ron Lancaster, Quarterback (1960-1978)
Lancaster played with the Ottawa Senators for his first two CFL seasons, but his reputation was cemented as a member of the Saskatchewan Roughriders. In 1966, the popular signal-caller guided Saskatchewan to its first Grey Cup victory. Lancaster finished his illustrious CFL career with 50,535 throwing yards, 333 touchdowns, 396 interceptions, and 3,384 completions — all Saskatchewan team records. Lancaster worked for CBC as a CFL commentator after his playing career.
Warren Moon, Quarterback (1978-1983)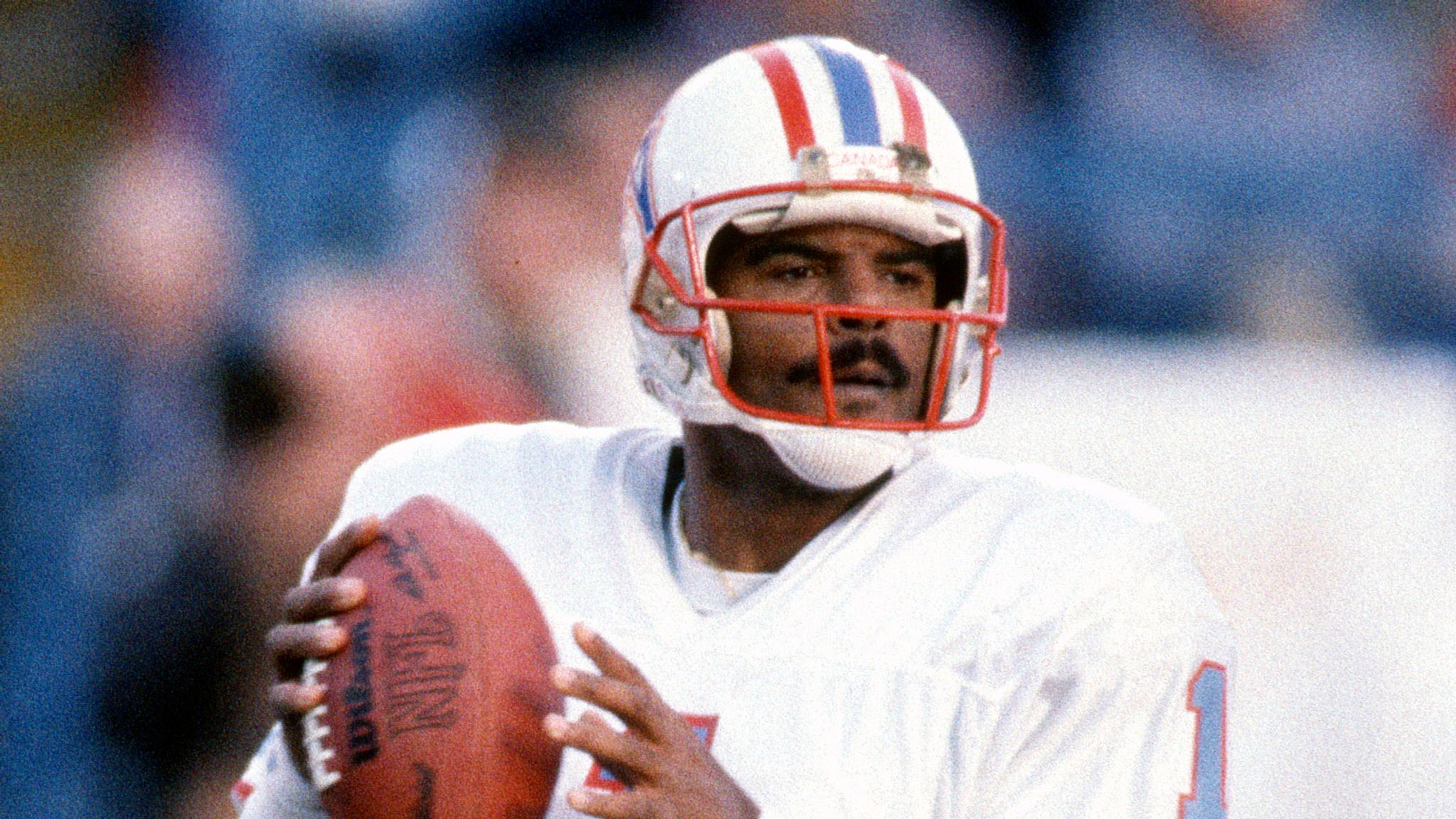 Warren Moon established himself as one of the greats in CFL history in a very short amount of time before moving on to the NFL. He played with the Eskimos for six seasons. Moon won five Grey Cups and passed for 21,228 yards with 144 touchdowns and 77 interceptions. Moon was selected as the CFL's Most Outstanding Player in 1983. The next year, he was on his way to Houston, where he would begin an illustrious NFL career.
Jackie Parker, Quarterback/Running Back/Defensive Back/Kicker (1954-1968)
Let's talk about adaptability. Parker threw for 16,476 yards with 88 touchdowns and 123 interceptions in nine seasons with Edmonton before finishing his brilliant CFL career with Toronto and British Columbia. He also ran for 5,210 yards and 67 touchdowns on the ground. Parker also had a career total of 135 catches for 2,308 yards and 19 touchdowns, as well as 12 interceptions and 40-of-62 field-goal tries. Parker also won three Grey Cups with the Edmonton Oilers in the 1950s.
Lui Passaglia, Kicker/Punter/Wide Receiver (1976-2000)
Come on, even kickers need attention. The native of Vancouver, British Columbia, spent his whole CFL career with his local team. Passaglia was a four-time All-Star and three-time Grey Cup winner with the Lions (1985, '94, 2000), setting league records for seasons played (25), regular-season games (408), and regular-season points (3,991). With a last-second field goal in the Grey Cup, he led the Lions to the 1994 league championship on their own ground.
Hal Patterson, Wide Receiver (1954-1967)
"Prince Hal," as he's been dubbed. Patterson was a standout on both sides of the ball, but his greatest success came as a receiver for Montreal and Hamilton. Patterson was a three-time All-Star who set a league record with a 338-yard receiving game in 1956, scored 54 career touchdowns, and had more than 30 games with 100 or more receiving yards. When Montreal sent the fan favourites to last-place Hamilton in 1960, Patterson and the aforementioned Sam Etcheverry were part of possibly the most controversial transaction in CFL history. Patterson helped the Tiger-Cats win the Grey Cup a year later.
Allen Pitts, Wide Receiver/Slot Back (1990-2000)
Pitts spent his entire CFL career with the Calgary Stampeders, and when he retired, he was the league's all-time receiving yardage leader with 14,891 yards. Although that record has since been broken, Pitts remains one of the game's superstars, with 966 catches and 117 touchdowns with the Stampeders. He was a six-time All-Star and a member of two Grey Cup-winning Calgary teams in 1992 and 1998.
Willie Pless, Linebacker (1986-1999)
With stints in Toronto, British Columbia, Edmonton, and Saskatchewan, Pless surely made his way around the CFL. He was chosen a CFL All-Star 11 times, won the 1993 Grey Cup with the Eskimos, and was awarded Most Outstanding Defensive Player five times (1992, '94, '95, '96, '97). Pless finished his playing career with 1,241 tackles, 84 sacks, 39 interceptions, and 39 fumble recoveries.
Mike Pringle, Running Back (1992-2005)
Pringle played in many professional football leagues, but it was in the CFL that he became a legend. Pringle, widely regarded as the finest rushing back in CFL history, is still the only player to carry for 2,000 yards or more in a season (as of September 2021). That happened in 1998 when the 5-foot-9, 200-pound behemoth racked up 2,065 yards on the ground with Montreal. Nine times in Canada, the seven-time CFL All-Star carried for at least 1,100 yards. He also won three Grey Cups, including one in 1995, when he helped the Baltimore Ravens become the league's first and only American-based champion.
George Reed, Running Back (1963-1975)
There was George Reed before Pringle did his thing in Canada. The Mississippi native completed his entire 13-year CFL career with the Saskatchewan Roughriders, making nine All-Star appearances and winning the league's Most Outstanding Player award in 1965 and 1976. Reed helped the Roughriders win the Grey Cup in 1996. Reed set league records with 16,116 running yards and 134 rushing touchdowns before his playing days in Canada came to an end. He also spent two consecutive periods as president of the Canadian Football League Players' Association.
Milt Stegall, Wide Receiver (1995-2008)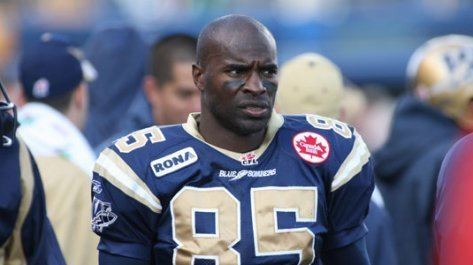 After a brief stint in the NFL in the early 1990s, Stegall found a home — and success — with the Winnipeg Blue Bombers in the CFL. Stegall has long been regarded as the CFL's finest receiver by analysts and historians. It's backed up by the data. With 147 touchdowns and 144 touchdown catches, the 2002 CFL Most Outstanding Player established lifetime league records. He concluded his CFL career with 854 catches for 15,153 yards and was inducted into the Hall of Fame.
Chris Walby, Offensive Lineman (1981-1996)
Walby's CFL career started with a short spell in Montreal, but he rose to prominence as a member of the Winnipeg Blue Bombers, where he became one of the league's best offensive lineman. Given that Walby, who is 6 feet 7 inches tall and weighs 325 pounds, was born in Winnipeg, this was rather remarkable. From 1984 through 1990, he was a key member of the Blue Bombers' three Grey Cup-winning teams. Walby was a nine-time All-Star who won the CFL's Most Outstanding Offensive Lineman award twice (1987, 1993).
Henry "Gizmo" Williams, Wide Receiver/Returner (1986-2000)
One of the best nicknames in professional sports, purportedly given to him by NFL icon Reggie White. Williams was just 5-foot-6, yet he played like a colossus. He is most known for being probably the greatest return guy in CFL history, and for winning two Grey Cups with the Edmonton Eskimos. Williams was a five-time All-Star who established CFL marks for punt return yards (11,257), kickoff return yards (7,354), and combined return touchdowns (31), which were frequently finished with a flip in the end zone.