We'll call this the quarter-pole point of the season since almost every team in the NBA is at or over the 20-game mark. Yes, it's still early. But we've seen enough to at least begin some interesting discussions. The most notable stories from the 2021-22 season are listed here.
There will be no mention of Ben Simmons' continuing controversy in Philadelphia since nothing has happened. Simmons does not want to play for the Sixers, and they will not trade him for the crumbs they have been given. We're still in the same position we were before the season started.
The same can be said about John Wall's absence from the Houston Rockets. He's healthy and ready to play, but the Rockets are allegedly pushing Wall to come off the bench, which he doesn't want to do. As a result, he continues to sit. That's OK with the Rockets, who, in the absence of a trade, have shown little interest in putting their greatest player on the court for fear of losing a few games.
With that in mind, I've listed five teams/players that, in my opinion, represent the most significant tales so far. I know that the Washington Wizards, who are 13-7 as of Monday, ought to be on this list, but the fact is that I haven't seen them play enough to make a credible judgment beyond their record.
1. Warriors back out to play
Golden State entered the season with a lot of hope, but an 18-2 record with the league's best defense, offense, and point differential by a long shot? Stephen Curry is on track to set a new single-season 3-point record and is the obvious favourite to win the MVP award. Draymond Green is a candidate for the DPOY award.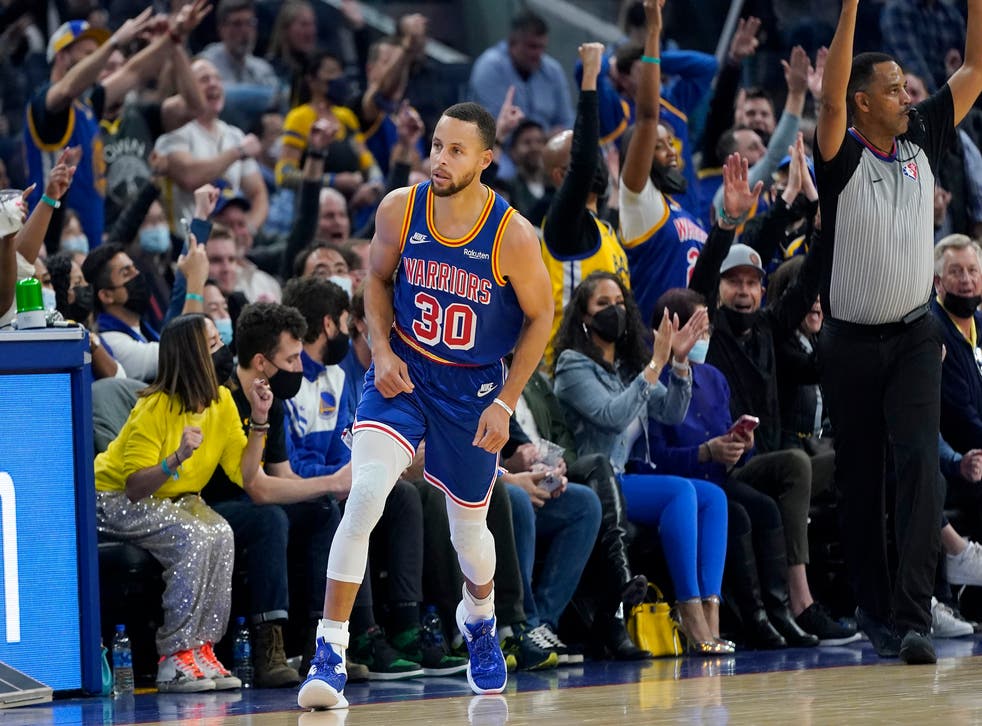 Andrew Wiggins has been outstanding recently, behind only Green in ownership of Golden State's defensive dominance: 22 points per game on 55 percent shooting, including 41.5 percent from 3-point range, over his previous ten games.
Jordan Poole is a full-time threat and part-time flame thrower. Gary Payton II is a must-see television show. Nemanja Bjelica is one of the league's most effective marginal additions, spacing Golden State's flowing-water offense; Payton's increased number of dunk cuts nearly entirely come with Bjelica on the court. Otto Porter Jr. is shooting 43% from beyond the arc. Kevon Looney is an unsung hero.
All of Golden State's pieces fit together, with shooters and versatile defenders aplenty. The ball has begun to move. Depth is strength once again. The action is fast-paced. On Sunday, blowout victories against the Bulls, Nets, and the shockingly tough Clippers put an end to the easy schedule qualification. It's beginning to seem like the good old days in the Bay now that Klay Thompson is on his way back.
2. Lakers' Westbrook gamble not paying off
The 11-11 Los Angeles Lakers' Russell Westbrook isn't the only problem, but he's at the heart of their bottom-10 3-point shooting and terrible point-of-attack defense. The Lakers, at least for the time being, would be a superior club if they kept Montrezl Harrell, Kentavious Caldwell-Pope, and Kyle Kuzma (the latter two their top perimeter defenders from a year ago), all of whom they dealt for Russ. They'd almost definitely be a stronger team with sharpshooter Buddy Hield, who they could've gotten for a Kuzma-centric deal before becoming intoxicated on the thought of putting Westbrook's name on their masthead.
The point is that the Lakers went all-in on Westbrook, and the decision has so far backfired as expected. Of course, I say unsurprisingly because Westbrook hasn't suddenly become a poor shooter during the summer. Lakers GM Rob Pelinka knew the same knowledge about Westbrook's brick-laying habits that everyone else in the world has for years, just as Pelinka was, or at least should've been, aware of Russ' well-deserved reputation as a turnover machine, half-court space sucker, and replacement-level defender.
Westbrook's risk would only pay off if, when playing alongside LeBron James, he abandoned his pull-up obsession and attacked the rim, like he did with the Rockets in the second half of 2018-19. The Rockets restructured their whole roster to give Westbrook a wide-open lane, trading Clint Capela to Atlanta so they could go five out with P.J. Tucker in the middle. Frank Vogel isn't moving in that direction. He's used two-big lineups to an excruciating degree, and Anthony Davis will be on the floor even if the Lakers don't use twin towers.
Plus, if you take away Carmelo Anthony, the Lakers' shooting isn't going to scare anybody, which is important if they want to play defensively effective units. LeBron is hitting more three-pointers than ever before, and defenders will gladly let him keep doing so. Westbrook will have to deal with congested lanes all season, so that pull-up jumper will become more appealing by default.
The second way Westbrook's bet may have paid off, especially in the regular season, is if he was used as a pick-and-roll partner with Davis in non-LeBron combinations. Instead, according to Cleaning The Glass, the Lakers were being roasted by 6.8 points per 100 possessions with Westbrook and Davis playing without the King. Davis has attempted almost as many blank shots as Westbrook this season, which doesn't help matters.
Westbrook isn't going anywhere. Nobody wants his contract or, to be honest, his game right now. Pelinka's wish-on-a-fallen-star offseason approach be damned, there's too much proof that he's a negative player. All the Lakers can do is try to alleviate his numerous flaws by playing quick and small as much as can, but it seems that this will only get them so far.
The Lakers may not be all that terrific in the end. Yes, LeBron has been out, but even when he returns, he may not be the same talent who has long been expected to lead even the most inept teams into contention. The Lakers got about as terrific a game out of their Big 3 as they can possibly hope for on Sunday, scoring 82 points on 63 percent shooting for LeBron, Davis, and Westbrook combined, but they could only manage a four-point win against the Pistons to go back to.500.
3. DeMar you watch, da better da Bulls look
The Chicago Bulls have lost three of their last four games, including a humiliating loss to the woeful Houston Rockets, but we're still talking about an infectiously enjoyable club with the league's sixth-best point differential.
DeMar DeRozan is building a name for himself as an MVP candidate. His average of 25.8 points per game is fifth in the league, and no one has scored more in the fourth quarter; he's shooting a flat-out insane 67.2 percent on clutch shots, according to Inpredictable. According to Synergy, DeRozan is a 95th percentile isolation monster who serves as Chicago's key half-court conduit for crunch-time scoring. According to CTG, with DeRozan on the floor, the Bulls improve by almost 22 points per 100 possessions. He has been nothing short of extraordinary.
He's not the only one who feels this way. Zach LaVine isn't exaggerating when he says he's the smoothest scorer on the planet. With his ability to launch full force into vertical space and fire all kinds of fadeaways with a flick of his wrist, he can produce a shot out of nothing. This means that if he's on the court, the Bulls are almost never stuck for a bad shot, even when defenses stifle their actions for the majority of the possession; LaVine's 47 total points — on 61 percent shooting, including 47 percent from three — leads the league in the final four seconds of the shot clock.
LaVine and DeRozan have settled into a natural your-turn-my-turn relationship with whom he shares much of the crunch-time responsibility; according to Inpredictable, LaVine is shooting a Kevin Durant-like 62 percent on clutch shots, and his 40 total clutch points are tied for second-most in the league. In the open court, LaVine is a cheetah, as Chicago is the league's most efficient team, averaging 135 points per transition possession, according to CTG.
You can't sprint like that without coming to a halt, and this is Chicago's biggest surprise. The Bulls have the league's No. 5 defense, and after grabbing defensive rebounds, they take just 10.7 seconds to rush back the other way and try their own shot, the quickest turnaround time in the league.
On defense, Lonzo Ball and Alex Caruso are Chicago's DeRozan and LaVine, a tag team of persistent on-ball and passing-lane activity. Lonzo Ball, who is hitting 43 percent from three, and Alex Caruso are the squad's DeRozan and LaVine. Ball has progressed from a wandering assist to a point-of-attack threat, ranking 10th in thefts. In terms of thefts per game and total deflections, Caruso ranks second in the league. Caruso should be first-team All-Defense if the season ended today, and Ball isn't far behind. According to CTG, with Ball and Caruso on the floor, the Bulls are outscoring opponents by slightly under 11 points per 100.
With Patrick Williams, the Bulls' top defender, presumably gone for the season after only five games and Nikola Vucevic shooting like he's blinded, the Bulls have done it all. The latter is unlikely to persist, but Vucevic's drop coverage might be an issue in the playoffs. Are the Bulls as good as they seemed in the first three months of the season? Possibly not. Is it true that they're much better than most people predicted, especially on defense? Absolutely.
4. So much for a Suns regression
The Phoenix Suns have won 16 consecutive games coming into their matchup with Golden State on Tuesday, after dropping three of their first four. Chris Paul's deterioration has been exaggerated. Yes, he's scoring a career-low 14.5 points per game, but he leads the NBA with 10.1 assists per game. He doesn't go to the rim too often, but that's been the case for a long, and he's still a midrange beast and master of the clutch minutes.
Paul is shooting 66 percent from the field when games are within five points with five minutes or less to go; his 1.1 assists per clutch appearance lead the league, and his 29 total points rank top ten.
Devin Booker, a product of Paul's slithering pick-and-roll, continues to improve as a playmaker while shooting a career-high 42 percent from three-point range, according to CTG, and he's even more lethal in clutch situations than Paul: 73 percent from the field, 60 percent from three, and eighth in total clutch points (30). It's no surprise that the Suns are 5-1 in games decided by five points or fewer.
Meanwhile, with Ben Simmons out, Mikal Bridges is the league's top perimeter defender, and it's not even close to a debate right now. He's perhaps the most useful non-alpha wing in the league, shooting 40% from three and putting the ball on the floor on second-side actions, ball swings, and against closeouts. According to CTG, the Suns are 16 points per 100 better with Bridges on the floor, with the offensive ledger accounting for the majority of that team-best statistical advantage.
Bridges isn't the only one who puts his foot down. It affects everyone. Phoenix is ranked third on defense since there isn't a single serious weakness to be found. The Suns are made out of a series of replaceable sections that line the perimeter, limiting 3-point attempts, particularly from the corner. Deandre Ayton guards the backside of the court.
That isn't to claim Ayton is an outstanding rim protector, but he is very mobile and athletic, and, like a good shooter with low percentages, he poses a larger danger than the 63 percent of teams shooting at the basket against the Suns, according to CTG. His presence is noticed by the teams. Plus, according to CTG, Phoenix is so excellent on the perimeter that opponents only get to the rim for 30% of their attempts, which is barely outside the top ten. The Suns are one of just five teams in the NBA that force opponents into more midrange shots.
The Suns were widely expected to fall flat this season after their unexpected run to the Finals last season. That hasn't been the case in the past. They have established themselves as one of the two top teams in the league in the early going, along with Golden State, and are once again a legitimate title candidate.
5. Nets travelling a hard path
James Harden's performance was beginning to improve; he's now 7 for 30 from three-point range and shooting 31% from the field in his previous four games. His hamstring wasn't in good shape, to begin with. He now claims to be having trouble striking a balance between seeking his own attack and assisting his teammates.
He might be correct. The Nets outscore opponents by 11.5 points per 100 possessions when Harden is on the floor without Kevin Durant, allowing him to turn on the selfish switch without the guilt of taking shots from probably the greatest scorer of all time. On the other hand, when Durant plays without Harden, Brooklyn thrashes opponents by 29.5 points per 100 possessions.
The problem is that the Nets are scarcely a positive team when Harden and Durant play together. That's a little deceiving; small-sample lineups are building up to some terrible stats, Joe Harris has been out, and the Nets are 14-6 and the No. 1 seed in the East entering Monday's play. Harris, on the other hand, is undergoing ankle surgery and will be sidelined for at least another four to eight weeks.
Meanwhile, a harsh fact exists: when Harden isn't on a never-ending quest for the charity stripe, he's just not the same type of superstar danger. Harden had almost every one of his huge scoring performances this season come with double-digit free throws, which doesn't happen very frequently.
If you exclude last season, when Harden was almost a no-show in Houston before joining the Nets for less than half a season, the last time he averaged less than 10 free throws per game was in 2013-14. He's averaging under seven attempts per game this season, and even that figure is inflated by a few outings with 15 or more attempts.
Harden has never been an exceptional shooter in terms of accuracy; he just pounded up enough shots to overwhelm the box score. He's shooting 40 percent from the field and 36 percent from three thus far this season. When you can't cheat your way to free points and have to make shots, it's a whole other ballgame.
Harden is still a fantastic player, and he's looking more like himself lately when it comes to establishing dribble leverage. Is a better-but-still-not-elite Harden enough to give Kevin Durant a fighting shot at a third title sans Kyrie Irving? Yes, I believe they are, but they are in no way a favourite. Unless Harden turns back the clock or Kyrie gets the jab, Durant has been nothing short of sensational, but the defensive torment he receives will ultimately wear the Nets down.
Notable mentions
The Sixers receive an A for effort: Despite the fact that their record has slipped as a result of Joel Embiid's lengthy COVID absence, this club has done all it can to contend with the hand it's been handed. Tyrese Maxey, a near-future All-Star, is a jolt to Philadelphia's typically plodding half-court pace; now that Embiid is back in the fold, he must attack the same way. Early on, Seth Curry was stuck on automatic, but he was always overstretched as a primary option.
Miles Bridges: His progress has been astounding. He should be at the top of everyone's list of Most Improved Players.
Nikola Jokic has improved: he is now better than he was last season when he won the MVP award. We knew Denver would struggle to compete without Jamal Murray, and we knew it would be even more difficult once Michael Porter Jr. was injured.
Luka or bust: If Jason Kidd doesn't go too far in trying to spread the wealth while Doncic watches inferior creators get their turn, this will remain Dallas' blueprint (and enough of the post-ups already). Kristaps Porzingis' recent performance suggests that he has a bright future ahead of him.
Neil Olshey newsflash: The Blazers do, in fact, have a roster issue. They have no chance of defending at the point of attack, so they are constantly scrambling. Over-helping is a problem; they're giving up open three after open three, especially from the corner. Who'd have guessed a teeny-tiny three-guard core led by career red-carpet defenders Lillard and McCollum would struggle to defend? In name, Robert Covington isn't the help he was supposed to be. In non-Nurkic lineups, Larry Nance and Nassir Little offer some hope (plus-6.7 per 100, according to CTG), but they can only do so much.
Atlanta is better than their record suggests: We're not concerned about the Hawks, who weren't quite as good as their run to the conference finals last season suggested, but are still a dangerous playoff team with Trae Young at the helm. Like everyone else, I'm interested to see if General Manager Travis Schlenk makes a move to turn his stable of young wings into a more premium player.
Kemba Walker is out: The Knicks' starting lineup has been battered this season, and Kemba Walker has been the most egregious offender. Walker will no longer be in the rotation, according to Tom Thibodeau, who told reporters on Monday. It's a difficult pill to swallow. Walker is one of the league's most well-liked and respected players. It's difficult to watch a celebrity fade away. However, this is the best decision for New York.
Boston Me Party: Jayson Tatum is obsessed with isolating. He's clearly capable of scoring on anyone, but his shooting numbers in these situations are difficult to swallow. It wouldn't be the worst idea in the world to chill on the 10-dribble contested pull-up mid-rangers.