After fleeing the field in the midst of Sunday's game for the Tampa Bay Buccaneers, who dismissed him on Thursday, Antonio Brown may never play another down in the NFL. Brown has had several opportunities to stay in the league, but he has left each of the four clubs for which he has played in his 12-year career on a contentious note.
Is Brown deserving of another chance in the NFL given his recent actions? Regardless, he could have another shot. Brown, according to CBS Sports NFL Insider Josina Anderson, has a position as a wide receiver in the NFL if he wants it. Basically, despite his many offenses, some organizations will take a risk on Brown.
Brown had a Hall of Fame career based on his on-field performance. He's the first player in NFL history to record six straight seasons of 100 receptions, as well as six consecutive seasons of 100 catches and 1,000 receiving yards (Marvin Harrison is the closest with four straight). Brown has 928 receptions for 12,291 yards and 83 touchdowns, earning him seven Pro Bowl appearances and four first-team All-Pro awards. Brown caught 42 passes for 545 yards and four touchdowns in only seven games in 2021 (including three 100-yard games), indicating that he's a prolific player when he's on the field.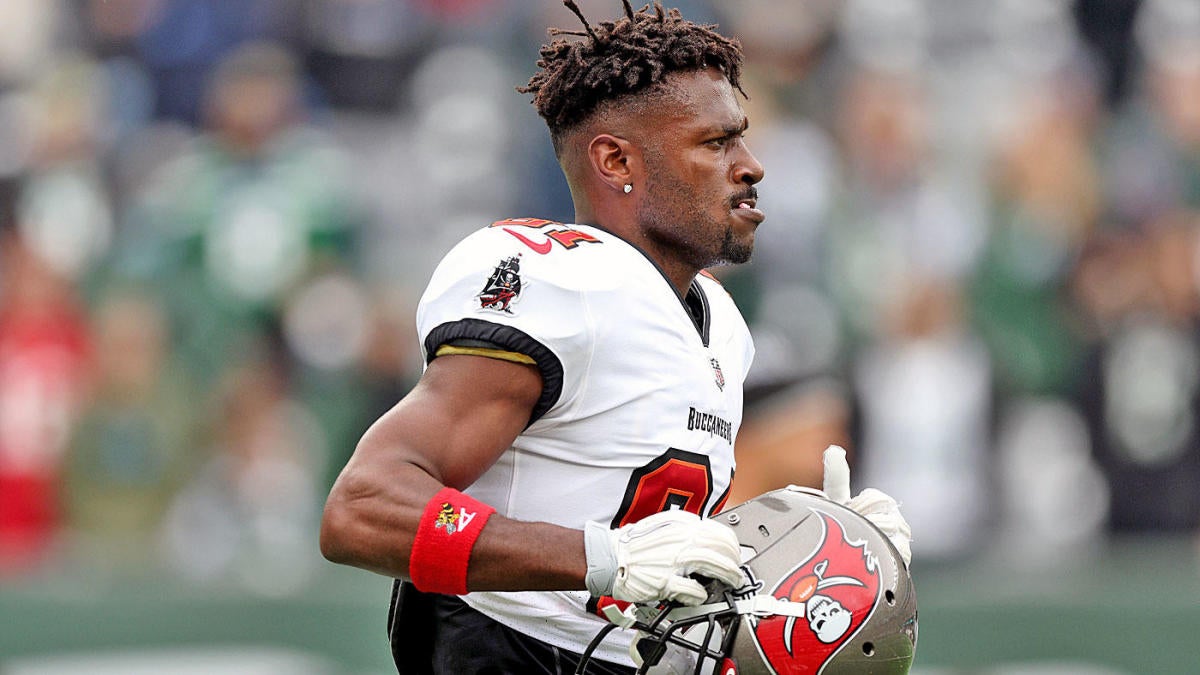 Teams seem to be interested in adding Brown to their squad whenever he becomes available, despite the distractions. Brown is "no longer a Buc," according to head coach Bruce Arians, but the club hasn't formally released him yet and may not for the rest of the 2021 season, which means teams interested in him won't be allowed to utilize him until next season at the earliest.
These four clubs, all of which seem to have shown interest in Brown at some time in the past, may use him in 2022.
Baltimore Ravens
Brown piqued the Ravens' attention before joining the Buccaneers in 2020 when Baltimore had one of the weakest wide receiver groupings in the league. Since then, Baltimore has made strides at the position, led by the emergence of Marquise Brown (Brown's nephew) and the development of youngster Rashod Bateman.
Brown may be a good match for Baltimore's young receivers if they want a seasoned wideout to partner with them. However, the Ravens have a strong pass-catching bunch, led by tight end Mark Andrews, so they may decide not to pursue Brown this time.
Seattle Seahawks
Before going to the Buccaneers, the Seahawks were another club interested in signing Brown. Russell Wilson has backed Brown in the past, saying the Seahawks have the culture to work with him and that Seattle "is a place where he'll develop a lot like a guy as well."
If the Seahawks want to retain Wilson beyond this season, bringing Brown in may be a way for him to do so. If Wilson has a say in the individuals he wants for his offense, Brown might wind up following him.
Washington Football Team
Before Brown's meltdown with the Raiders and the ensuing complications, Washington was interested in acquiring him following the 2018 season. Brown's squabbles with Ben Roethlisberger and the coaching staff didn't appear to bother Washington, but would the Football Team feel the same way with Ron Rivera in charge? Outside of Terry Mclaurin, who is the lone wide receiver on the team with over 400 yards this season, Washington needs assistance at wide receiver.
Washington already has enough difficulties from the top down, so adding Brown would be another public relations nightmare for a company that has had several in the previous decade.
New Orleans Saints
The Saints have been on the lookout for a veteran wide receiver in recent years, signing names like Dez Bryant, Kenny Stills, and Chris Hogan to provide experience to their youthful wide receiving units. None of those deals worked out, but the Saints have sought to bring in veterans to support Michael Thomas (who has been sidelined due to injury this season).
Brown might be considered by the Saints, who were 4-2 when Jameis Winston tore his ACL and was gone for the season. Adding Brown to the mix may be enough to give the Saints an advantage in defeating the Buccaneers (which they already do in the regular season) and reclaiming the division. Given the uncertainty surrounding Thomas' injury, signing Brown would be a move similar to others made by the Saints in the past.
This season, New Orleans hasn't had a single receiver with more than 700 yards, so is Brown really worth the risk? In 2019, Brown did work out with the Saints, but he described it as a "publicity stunt." That might have ruffled head coach Sean Payton's feathers, and he may not want to give him another chance.
Brown may want to sign with the Saints for the chance to play the Buccaneers twice a year, but that opportunity, like many others, may have passed him by.